Are you giving gift-givers everything they need to buy from you?
After months of careful planning and preparation, the holiday season is upon us. Hopefully, you've put in the hard work of developing your personas and refining your marketing campaigns to each audience. So you'll have the right messages in front of the right shoppers, at the right time, right?  You're living the marketing dream!
No matter how hard you've worked to tailor your holiday marketing strategies to your personas, a fresh look at new data is always helpful. As the snow started to fall outside, I got a little lost in the consumer behavior data and search trends available + wanted to share!
Gift giving is an art form. Forget the gift cards and wish lists, shoppers this season want to give gifts that wow. That doesn't necessarily mean they're spending more, just that they are looking for more memorable, personalized gifts that show they care.More + more shoppers are looking to be the best gift-givers – but it's a stressful process. Take a look at the queries that are on the rise on Google:
Shopping is more intentional than ever. I'm not going to name names, but I have a coworker that is the king of the last minute holiday shopping trip… Heading out within days of Christmas to tackle almost his whole shopping list.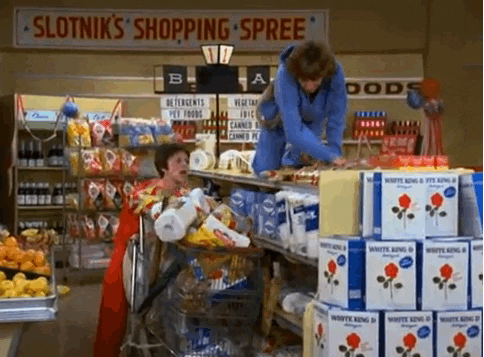 While he's not careless with his shopping (he does have a list, after all!), images of Supermarket Sweep come to mind every time. I just picture Christmas Eve shoppers as throwing anything and everything in their carts… But that's not the case for most shoppers. Last year, 66% of all holiday shopping was planned before purchase. That's true for both online and in store purchases – shoppers are looking for recommendations, reviews and suggestions for giving the perfect gifts.
You may not have time to get really great new organic visibility for your recommendation content, but you're not out of luck!
cast a wider net – use as many channels as possible to distribute your content + products, that means social media, digital advertising + more.
improve your site's CTAs – upsell, upsell, upsell with cross promotional content, customer reviews + related product listings.
use local ad campaigns to reach shoppers when they are out and about to drive more traffic to your retailers with your brand on their brain.
Engaged consumers will go out of their way + spend more money. Shoppers are ready and willing to try new retailers + spend more on products if they will help them give better gifts or make their life easier. 76% of U.S. holiday shoppers over 18 are searching on their smartphone, visiting a retailer site, or going into a store to uncover new brands and products or rediscover old favorites. That's a lot of work to give the perfect gift.
I covered why it's important for you to connect with consumers before,  and offered up some suggestions on making things easier for shoppers to buy from you a few weeks ago. Today, let's look at some ways you can spark an emotional connection with your brand this holiday season…
 Focus your stories on the joy of giving your products – show shoppers that giving your products as gifts will be a big win for them.
Use your personas to develop really specific gift lists for your audiences, from dads to the person who has everything.
Give the gift giver some perks, a promo code to use later, or an offer that gives them a reason to shop for themselves, too.
Offer relevant deals, cart reminders or personalized product recommendations based on their past shopping behavior.
Don't underestimate the add-on, from gift-wrapping to personalized notes look for ways to make your shoppers' lives easier.
The better you understand your consumers the easier it will be to market to them. That's true throughout the year, but should be a top priority for you through the holiday season. How are you making it as easy + rewarding as possible for consumers to buy from you this year? Where could you use a little help? Let me know in the comments below!